Matt Chabot joined c3controls in January 2018 as a Software Engineer and was promoted to Director of Engineering in August of 2018. Matt is responsible for leading the engineering development of all c3 products.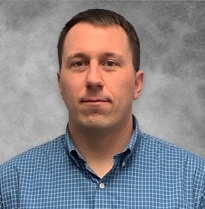 Matt began his career as a Embedded Systems Engineer at a small telecommunications company. Later he focused his efforts on Military research and then control systems development / engineering. Looking for something more, Matt co-founded his own company in 2009 and then founded a solo venture in 2016. Having surveyed a large number of industries and business models Matt brings a wide breadth of experience to the c3controls product roadmap and engineering processes.
Matt holds a BS in Electrical Engineering with a Computer Engineering option from the Rochester Institute of Technology.
In his spare time Matt enjoys woodworking and spending time with his wife and two children.